YES! Often while out looking for new and better for my clients, I am turned on by great design and innovation and this is both! While browsing through my local fixture showroom I stopped and OOed American Standard's luxury line, DXV. They offer some beautiful options! In particular, for a fine furniture vanity, I loved the Modulus, modular pieces with suede door pulls. There is something about suede that immediately brings to mind tall, dark and cowboy sexy, which the combination of the modern lines of the natural oak and a classic textured material like suede made it masculine and approachable at the same time...like a sexy gentleman in jeans, right?
Fine furniture for your bath.
But then...I stopped and literally GASPED! Now it is true I love beautiful design, and am often excited by some of the great stuff I find but I was WOW! What really turned me on was this incredible, innovative, and amazing new faucet. Are you thinking, what? Really? YES! I love beautiful design and awesome innovation and this is both!
The DXV website asks, When was the last time you were astonished by a faucet? Just now. By this. Now I know a bit about 3d printing and know it is cutting edge and has immeasurable applications, but this is a stunning approach making these graceful and evocative (...we are talking about faucets here!) They aren't new to 2018, having been introduced in 2016, but they are new to me and I could not wait to share it with you.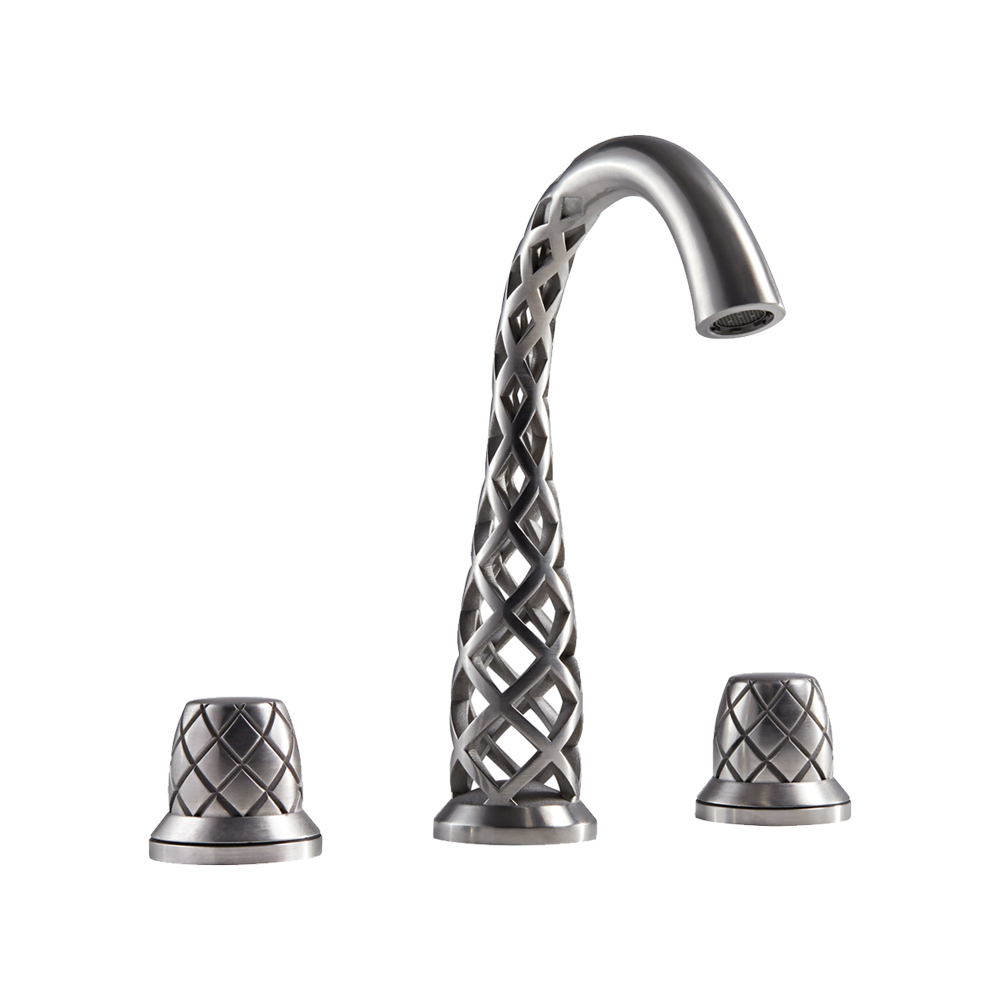 These are metal faucets, each 3D printed using multiple small waterways to deliver the water and gives the ability to create open, airy, seemingly hollow faucets which, as DXV describes it best, "offers the allusion that water magically" appears.
Yes, this metal looks like a lacy weave, each with a tiny waterway within it. Like WOW!
This one is my FAVE -
The Shadowbrook is my favorite, even though it doesn't have the openness that other two faucets have, the design appeals to me. I can envision it with many looks from rustic stone to leathered granite, traditional cabinetry and modern materials. It definitely evokes water bubbling over river rock and images of rocky waterfalls, all of which creates a relaxing experience in my mind. Sigh. Isn't that the feeling you want in your Master Bath? Love it.
And the most "traditional" of their three options is the Trope faucet with its more standard shape but offering a hint of illusion.
See? Sexy plumbing right? Now, DXV, your next step is to add some LED lighting in there and really send me over the top!!! (Yes, I should def get proceeds for this idea!!!)
Beauty and innovation together comes with both bragging rights and hefty price...But if you ever want to hear your guest "Ooo and Ahh" in your powder room then these will do it. Just be ready to invest upwards of $17,000.00 (yes you read that right!!!) and I'll gladly help design your bath around of these beauties! Which would you choose?